Ghana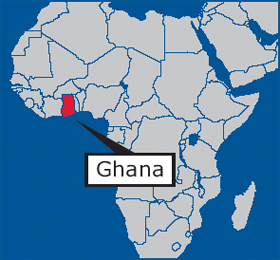 Ghana is a developing country on the West Coast of Africa. In 1957 Ghana gained independence, the first sub-Saharan nation to do so. It remains one of the world's top gold producers. The country is made of flat plains, low hills, a few rivers, and boasts Lake Volta, the world's largest manmade lake. Public schools are free for primary and middle school aged children.
Ghana history is involved in former slave trade from the 1700's through 1800's. Over 6 million slaves where shipped from the West Coast of Africa to North America. About 5,000 slaves per year were shipped from the Ghana coast.
Proverbs from Ghana – A child who asks questions does not become a fool. You must act as if it is impossible to fail. Do not follow the path. Go where there is no path to begin a trail.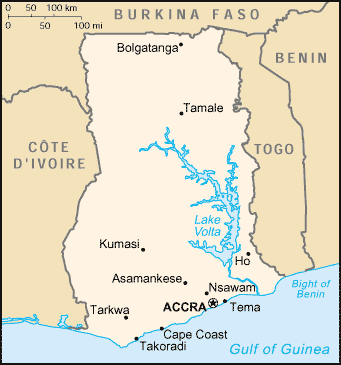 Brief Statistics
Region: West Africa
Population: 22 million
Life expectancy: 56 years
Infant mortality: 51 per 1000 live births
Access to safe water: 91% urban, 64% rural
Average annual income: $390, half live on < $1.00 day
Literacy rate: 65%; males 71%, females 58%
There are 15 Physicians per 100,000 persons
ENGAGE MISSONS work in Ghana:
The work in Ghana is a new project to assist with sharing the Good News of Jesus and building a college campus to educate nationals in areas of: Bible, agriculture, sanitation, and teaching.